I don't know if it is just me, but a cool fitness gadget will get me every single time. Here are some that I am eyeing right now! What's on your wish list??
1. Aria Wi-Fi Smart Scale ($129.95): This scale tracks your weight, body fat percentage, and BMI, painting a picture of your long-term progress. It wirelessly syncs your stats with online graph and mobile tools that help you stay motivated and on track. It also syncs with my Fit Bit one! It is so frustrating when the scale won't move. It would be awesome if the scale could tell me more than just my weight.
Note: I would also always like it to say 122.5lbs on it as well. Thanks!
2. Wii Fit ($99.99 for a new Wii Fit Plus, but I think you can get the original on Amazon for closer to $50): Yes, they have been out for awhile, but I have also wanted one for awhile. Jon and I can sit and play Wii for hours. I think this would be a great way to incorporate some activity.
3. Spin Shoes (depends on which ones you get): I've been going to spin class quite a bit and I am MEGA jealous of all the people who have the cycle shoes that snap into the bike. I'll have some eventually.
4. GoKey ($14.99): It's a bracelet that holds your key!! Genius. A lot of us have been there. Tie your key to your shoe laces. Shoe comes untied. Key gone forever. Or...you could be like my sister and bury yours before a race, only to not be able to find it after. They have some cooler looking ones as well, but the GoKey gets the job done for a lot less than some of the fancier, more expensive ones.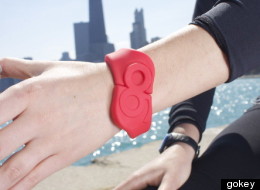 5. Treadmill Desk ($500): Yea, this one is probably not so feasible, but it would be pretty legit if my boss would hook me up with a treadmill desk.
I may want these things, but I'm also honest with myself. You can lose weight and be healthy with or without all of these things. These things just may make it a little more fun!!